Description

iPodEditor brings the Mac to the power of editing the iPod's interface. Everything from text to pictures you can now edit with iPodEditor. iPodEditor supports a wide variety of iPods: 1-5.5G iPod, 1G iPod Nano, and 1-2G iPod Mini. iPodEditor uses iPodEdit as it core tool for extracting/writing resource to/from firmware and ImageMagick for converting images so, you can edit them with Photoshop or any other picture editing software you have. iPodEditor supports a wide variety of images thanks to ImageMagick: bmp, gif, pdf, pict, png, psd, sgi, and tga.

On newer versions of OS X, you have to run this as root. To do so:
1. Open terminal by clicking on Spotlight and searching for terminal.
2. Right click on iPodEditor and choose show package contents.
3. Go into the folder called Contents and the folder called MacOS.
4. Type in terminal "sudo " (with a space) and drag the black icon of iPodEditor to the terminal window.
5. Push enter.
History

Version 0.2:
• Includes lots of bug fixes.
• Added themes.
• Now has documentation.
• New icon.
Requirements

An 1-5.5G iPod, 1G iPod Nano, or an 1-2G iPod Mini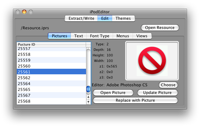 More Screenshots
| | |
| --- | --- |
| Downloads: | 7,484 |
| Version Downloads: | 6,947 |
| Category: | iPod/Utilities |
| Released: | March 20, 2008 |
| Updated: | April 5, 2008 |
| Operating System: | Mac OS X 10.4 Tiger |
| Architecture: | |
| File Size: | 746.21 KB |
| Rating: | 41 Votes |
Download