Description

iTunesMenu displays the current song artist, name, and/or album right in the menu so you can see what song is currently playing easily.
iTunesMenu was made because I couldn't find anything like it.
iTunesMenu has a built in fully featured alarm that I use to backup my server.
iTunesMenu has hot key support so you can easily pause/play and skip songs from your keyboard.
iTunesMenu has support for last.fm scrobbling so your friends can keep up to date with what your listening to.
iTunesMenu has Motion features so you can shake your Mac to have it skip songs and shuffle.
iTunesMenu has Growl support so you can see the current playing songs in notifications.
History

0.4
• Added Ratings
• Playlist choosing doesn't require donation
• Added AppleScript support to the alarms
• Now in German, Spanish, and Portuguese
• Fixed a few bugs with the alarm

0.3
• last.fm scrobbling
• Alarm clock
• Shake to shuffle
• Tap to skip
• Font changeable menu
• Smooth scrolling
• Fixed Growl Title
• Fixed the possibility that it wouldn't activate
• Fixed many problems that I noticed

0.2
• Playlists Menu
• Playlists Window
• Volume Notifier
• Auto adds and removes startup item
Requirements

iTunes 4.7 or later (6.0 or later recommended)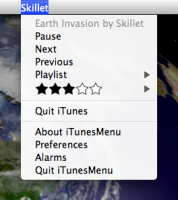 More Screenshots
| | |
| --- | --- |
| Downloads: | 69,201 |
| Version Downloads: | 25,498 |
| Category: | Utility/iTunes |
| Released: | May 24, 2008 |
| Updated: | July 17, 2009 |
| Operating System: | Mac OS X 10.4 Tiger |
| Architecture: | |
| File Size: | 1.65 MB |
| Rating: | |